Sofia Somoza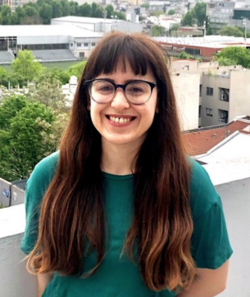 Sofia Somoza, Ph.D. Student
phone: +49 (0) 221 470 3900
Email: sofiacsomoza@gmail.com
Curriculum Vitae:
Currently doing a DAAD-funded short stay at the University of Cologne (AG Boisson-Dernier)
University of Buenos Aires, Argentina (2017 – Present): Ph.D. student in Biological Science (Supervisor: Dr. Jorge P. Muschietti)
University of Buenos Aires, Argentina (2010 – 2016): Bachelor + Master in Biological Science
Scientific interests:
My long-term goal is to understand the molecular events controlled by a wide family of small cysteine-rich secreted peptides called RALFs (RAPID ALKALINIZATION FACTORS) in polarized cell growth in plants, using growing pollen tubes of Arabidopsis thaliana as a model system.
In my free time I enjoy baking cakes and desserts and watching all type of movies. I love traveling, taking pictures and meeting new people.
Publications:
Somoza, SC, Sede, AR, Boccardo, NA and Muschietti, JP (2020). "Keeping up with the RALFs: how these small peptides control pollen–pistil interactions in Arabidopsis". New Phytologist. https://doi.org/10.1111/nph.16817
Mecchia MA*, Santos-Fernandez G*, Duss NN*, Somoza SC, Boisson-Dernier A, Gagliardini V, Martínez-Bernardini A, Fabrice TN, Ringli C, Muschietti JP# and Grossniklaus U# (2017). "RALF4/19 peptides interact with LRX proteins to control pollen tube growth in Arabidopsis". Science. https://doi.org/10.1126/science.aao5467